Moose: Why does the old guy get to go? Last day of the season and you're taking him to the woodie hole!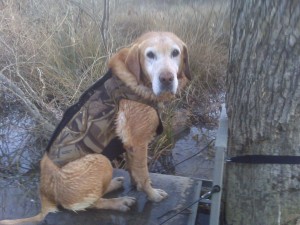 Boss: He has the nose and he'll sit still.  Plus it's a nice sunny day, warm enough for his old bones.  You're still my all-weather, ice busting, goose tackling go-t0 guy but you need to be a good sport and let the old guy get a few.
Moose: You mean like that "honor" crap you tried on me where I have to honor the working dog?  I am the working dog!
Boss: So you were actually paying attention?  No matter, he's going and you're staying.
Moose: But look at all that white! He'll flare the ducks!
Boss: No.
Moose: But I blend in and I have stealth mode.
Boss: That's just scary.