Many of you have enjoyed the dog blogging antics around here provided by Moose and his brothers.  Unfortunately we lost dear Moose this morning when his wandering came to an abrupt end on a busy county road.  Houlton is still missing but calls keep coming of possible sightings in the general area where Moose's body was recovered.  It's been a rough couple of days but having old Crash around to ease the pain has been a blessing.  He occasionally goes to the back fence and lets out a mournful howl calling to his lost brothers.  We laugh, we cry, we remember how we were blessed with the big brown bully and wish that it could have been just another chapter in a long happy life.  He left a hole far larger than any he ever dug.  I knew when I got a call from a neighbor I didn't even know who was so choked up she could barely talk that the youngest of our pack was gone.  As I followed her back to where she spotted his body I prayed the entire two miles that it wasn't my Moose but I knew as soon as we pulled up that I had failed my friend.  I shared many of his stories here and since I didn't get the chance to say goodbye I'll do it here.  I'm sure it will be every bit as hard to read as it is to write so I'll give you the option to read on if you wish or you can spare the shared pain by not venturing below the fold.
Dearest Moose,
I took you for granted, knew you would be with me when Crash and Houlton passed on from old age. I should have hiked and called for you until my legs and lungs gave out but I didn't – I knew you'd be home for dinner. It will always haunt me that I didn't try harder. We used to train together but the trips to the pond became farther apart than they should have. You tried to tell me you wanted to go and I didn't listen. We got in a few hunts even though you had to sit out a few so I could take the old guy "just once more." You were truly a pleasure to work with and you never failed to amaze me with how fast you grasped concepts that take mortal retrievers weeks or months to catch. This was going to be your varsity year since Crash is simply too old for hunting. I should have told you that and picked up the training again. I think I let you get bored and yet you never complained. Your breeder knew what he was doing when he picked you out for me. He knew you'd be a big handful and you lived up to that plus some. You will always have a special place in my heart – I've loved all my Labs but you had an uncanny ability to read me. You were a clown, athlete, friend, and absolute joy to have around. I enjoyed nothing more than watching you do what generations of genetics programmed you to love more than food (well almost). I've watched many retrievers over the years but none that loved the game with as much untamed enthusiasm as you showed. You covered me in mud more times than I can count and I know it was intentional. A hundred pounds of wired energy can make quite a mess and I loved every minute of it. I wish I'd been a better shot but the looks you gave me when I missed were priceless.
Thanks for all the warm memories: your first summer when we escaped to the cabin in Maine and we stayed until the leaves started falling, the way you could sneak away from the foot of my chair without a sound on the hardwood floor, your deep bone-jarring woof when dinner was late, drinking with your entire head in the bucket, your contented groan from an ear rub. You're all around me from the chair legs you cut your teeth on to the scratches on the Jeeps. You loved to ride and were a wonderful road companion from day one but this last one nearly killed me. I hoped that one day when you were old I'd have to lift you into the Jeep but never for the reason I did today. I kept looking for your head blocking the rear view mirror but you were gone.
We miss your big brown softness and all your sneaky habits. I regret many things but sharing your short life is not one of them. I'm better for having known you and that's what counts. I'm so sorry that I didn't do better by you and I have no right to ask this but I need one more favor: help guide your lost brother home to us. Run with both the boys in their dreams. Chase rabbits or whatever it is you guys do when you're woofing and kicking all over the den. Be with them because they miss you as much or more than we do. I know that wasn't you I lifted into the Jeep this morning for your last ride, it was just the handsome form your spirit used to warm our lives. Watch over all of us for just a while longer before you head off to the Grand Lodge where it's always duck season, the birds are plentiful, the shots never miss, and you get to spend your evenings in front of the fire listening to old men tell their lies.
Thanks for sharing your life with us. I pray that your end was merciful and am eternally sorry I did not save you in time. Since you showed me which direction to search, I set off through the woods this afternoon hoping to find your brother. What I found was the most incredibly beautiful creek bottom and a trail that I'll visit from time to time knowing you were there and loving every minute of it. Rest in peace my dear friend, you are sorely missed by all who ever knew you.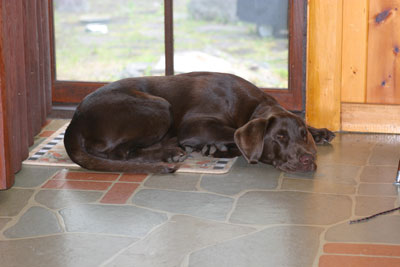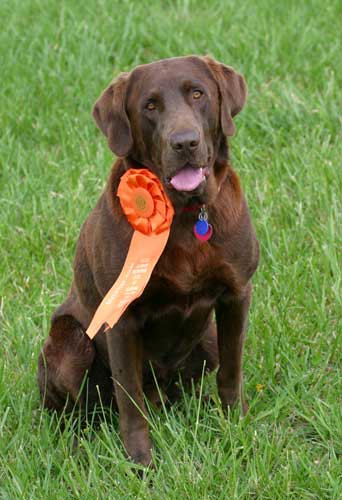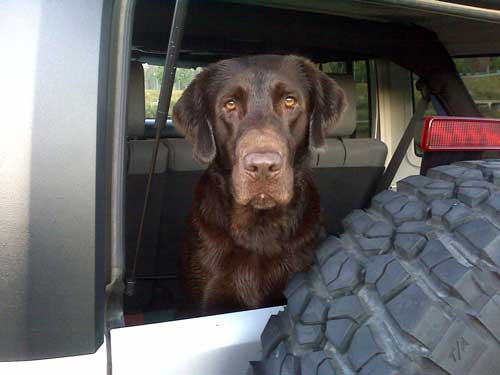 10/26 00:20
There is a happy ending to the tragedy: I had just shut down the computer and crawled into bed when I heard Crash scratching downstairs followed by a faint wimper from outside. I went down, turned on the light outside the garage door and there sat Houlton waiting to be let in! Thanks Moose, you work quickly indeed (with a little help from your new master). The four of us can now sleep soundly for the first time in several days but we will miss you always.