Some days even the hardest acts flow naturally as if they were planned long ago. The perfect vantage point to watch over children who barely knew him, to witness the seasons change, to be remembered.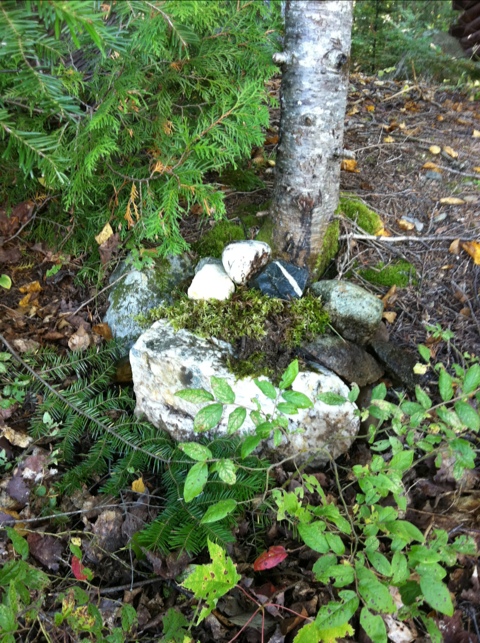 A promise fulfilled.
Ashes returned to the forest.
Granite and quartz from the shore.
Moss from the woods.
Water from the lake.
Tears from the heart.
From the shade of the spruce he watches the pass between the island and the point which mark the mouth of the cove. We came and went many times that way, his muzzle resting on the rail of the canoe sampling the breeze even as he napped, thoroughly content just being along for the ride.
There were several times today when I became acutely aware of the simple things around me but this evening was magical. As the sun dipped behind the mountain the wind died with it and I slipped the canoe into glass. I paddled out to the point and flipped my fly rod without regard to what I had tied on the line. I didn't care. The fading light in a cloudless sky was like being inside a marble. For 30 minutes I stood in that boat suspended in the glow of the reflected sky casting a streamer and reeling in a perch with almost every cast. Balance, rhythm, no pain, just the music of ducks, geese, and loons.
The light faded along with the fish and I slid silently back through the rocks by memory.
Tough day but absolutely special – as were so many others in the company of "Big Brown".