I chatted with him just the other day. He was whining about early briefings and weather cancellations but he knew he still had the best job ever.
Lex is gone. His wit, wisdom, and humanity. The blog is silent. His books, for there would have been many, unwritten. He truly had a gift that he shared freely even when he didn't really have the time. His posts drove the rest of us struggling hacks to push that much harder. The way he would transport you into the cockpit was unlike any talent I've ever read including a long list of best-selling authors. Lex had them beat but you'd never get him to admit to it.
Over the years we've watched his kids grow up and head off to school, we witnessed the pride in the old fighter pilot when his son earned his own wings of gold, we shared, we understood, at times we even helped. Most of us never met the man whose company we enjoyed so much. Such detached closeness is a strange phenomenon of blogging that Lex wrote about often, the compassion of people that were friends yet perfect strangers. I didn't know Lex but I knew the man and his tragic loss is every bit as painful as the others on my growing list. Flying is a calculated risk, flying grey jets in harm's way even more so. Lex lost his share of wingmen along the journey and as he said on several occasions, sometimes bad things happen. Training minimizes the risks but no amount can completely mitigate them. He understood and accepted the danger.
I've linked to his material often over the years but for those of you who didn't have the pleasure of knowing him, Lex served a full Navy career retiring as a Captain. He couldn't stand being grounded so he wrangled a weekend gig dogfighting little Vargas with an air combat outfit. It was good (any paid flying is better than none) but it wasn't his old mistress the Hornet. Then along came an opportunity to fly the F-21 Kfir with a civilian contractor as an aggressor pilot. He was thrilled as was his entire extended internet family. The stories were fresh, you could feel the adrenaline in his writing. Lex was back where he belonged. Shockingly the ride ended far too soon.
The fighter pilot fraternity is statistically small to begin with, carve it down to civilian contractors flying aging Israeli Kfirs out of NAS Fallon this week and the alarming news of a fatal crash narrowed down to our man at warp speed. We gathered online hoping beyond hope that it wasn't him but when one dreadful day dragged into the next without so much as a peep on his prolific blog it became painfully obvious. If we had all been in one room the bar would have stayed open long into the wee hours as we toasted our friend. Lex of all people would have appreciated the gesture. It's a small comfort that he died doing what he loved. My thoughts and prayers are with his wife and kids who, although I've never met, I know them as my own.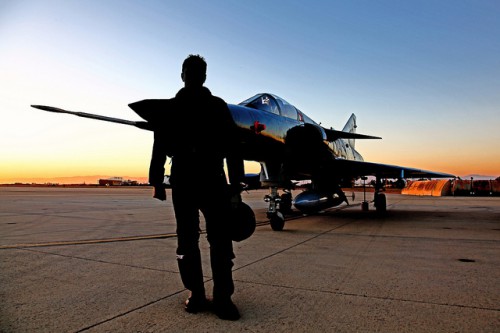 Godspeed Captain Carroll "Lex" LeFon…
This snip from the mid-watch last night sums it up:
" We are, actually, pretty few, and we count our fellows as friends of a different sort.. And so when one of us leaves, it is noticed. It is one thing to fade, fade away. It is another to be taken by the mistress, to be here, and then gone. I thought she was done with leaving me to count. So I thought."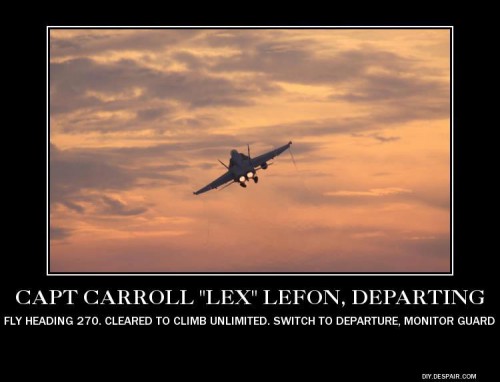 I'll add more tributes as they come up. The list will be long.
http://blog.usni.org/2012/03/07/pardon-him-theodotus-neptunus-lex-carroll-lefon/
http://aw1tim.wordpress.com/2012/03/07/one-of-our-own/
http://www.thedonovan.com/archives/2012/03/there_is_a_univ.html
http://cdrsalamander.blogspot.com/2012/03/neptunus-lex-thank-you-and-farewell.html
Thanks to FBL, you can go fly with Lex in the mighty Varga: http://fuzzilicious.blogspot.com/2010/03/fuzzy-flight-full-aar.html
http://www.neptunuslex.com/2012/03/07/whisper-open-thread/
http://www.thesandgram.com/2012/03/07/carroll-lex-lefon-you-are-cleared-due-west/
http://www.thedonovan.com/archives/2012/03/we_were_blogger.html
http://blog.usni.org/2012/03/07/a-remarkable-man-has-stepped-into-the-clearing-captain-carroll-lefon-usn-ret-1960-2012/
http://steeljawscribe.com/2012/03/07/ave-atque-vale
http://homefrontsix.blogspot.com/2012/03/fair-winds-and-following-seas.html
http://fuzzilicious.blogspot.com/2012/03/hole-in-our-world.html