Big E sets out on her last deployment. Hard to believe we're set to retire a nuke boat but then again I served on floating fuel tanks (yes, carriers used to actually burn fuel oil for power) and came home smelling of "boat" – that lovely mix of oil soot, jet fuel, hydraulic fluid, and sweat.
X: "Get that bag out of the house!"
Me: "What the?"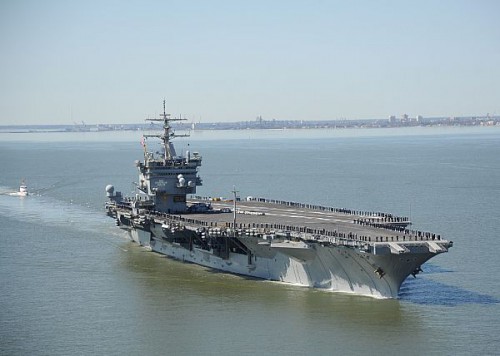 NORFOLK (March 11, 2012) The aircraft carrier USS Enterprise (CVN 65) departs Naval Station Norfolk on its final deployment. Enterprise is deploying as part of Enterprise Carrier Strike Group to support maritime security operations and theater security cooperation efforts in the U.S. 5th and 6th Fleet areas of responsibility. (U.S. Navy photo by Mass Communication Specialist Seaman Harry Andrew D. Gordon/Released)
Bring 'em all home again Captain.