This is a review of a local auto restoration shop owned by Doug Hartman and now operating out of Harpersville, AL.  I'll do my best to keep this objective and let the facts/images speak for themselves even though this is a very personal issue with me: I grew up in the 1962 Buick Special convertible that is the subject here. Or more accurately, the victim.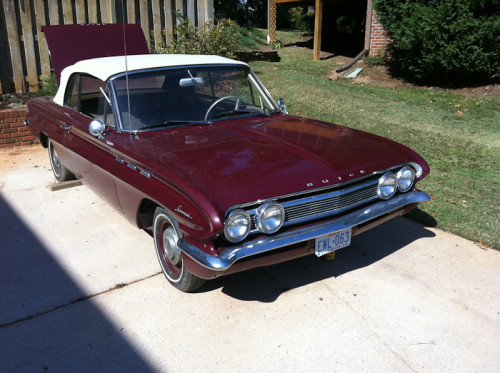 1962 Buick Special convertible prior to restoration.
Last year I delivered the Buick – along with some patch panels, OEM replacement rocker skins, and a complete 1962 two-door hardtop parts car – to Doug's shop which was then located in Westover, AL. I had already disassembled the car, including pulling the motor, gas tank, interior, hood, front fenders, radiator support, all trim, windows, etc. Essentially the car was ready to start working on. I went over the car with him and his crew, identifying the areas I knew to be bad. There was a lot of rust due to Ohio winters and road salt. Plenty of old bondo to cut out – that's what the parts car was for.
He had the car for several months and I made progress payments totaling over $10,000. Initially I visited the shop often and was pleased with the metal work then I got busy and let my guard down. Meanwhile shop personnel changed and the project went south.
I took the car back twice for rework and was about to take it back again when I decided to cut my losses and take it elsewhere for evaluation.  I ended up having the car completely reworked. The gallery of images that follows illustrates what we found as we reworked the car after Classic Auto Restoration had "finished" their version of a restoration on this Buick:
This was my experience, yours may vary. All I can suggest is if you decide to trust Doug with a car, put your expectations in writing and keep a close watch on the progress. Buyer truly beware!