About Steve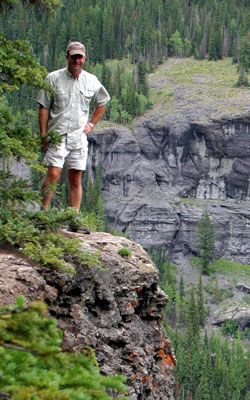 Welcome to The Wood Shed!
It's a one-man effort to balance a creative outlet along with all of life's other demands. I started this site several years ago while I was engaged in turning a short story into a novel with the ultimate goal being publication. In the beginning it sounded like a great idea but then the reality of cranking out entertaining and engaging material consistently on a daily basis hit me. Hard. I started posting here as a means of working through the dreaded writer's block. In late '06 I found myself about halfway towards what I envisioned as the completed novel when the opportunity to step back into my old sales territory with the local Caterpillar dealer presented itself. The decision wasn't too difficult given that I didn't have a completed manuscript or an interested publisher (yet). Remember I mentioned life's other demands? Well, getting back into the grove in my old territory demanded that I shelve the book (heh) for a while.
A quick look at the background that produced this twisted mind: I traveled Europe as a toddler thanks to my father's many overseas assignments in his early career with Proctor & Gamble. Otherwise I grew up in Cincinnati, spending many working weekends on the family farm in western PA, and summers as a youngster up in northern Maine with Mom's side of the family. In spite of being land-locked, I managed to grow up on the water – I was a sailor long before I joined the Navy. College at the University of Alabama. President of my fraternity (couldn't pay me to do that these days). Then came Naval Aviation and lovely places like Pensacola, San Diego, and Jacksonville. Flying as a Naval Flight Officer in the Lockheed S-3B Viking: VS-28, VS-27, USS Forrestal CV-59, NAS Cecil Field – all part of history now. Other than the sabbatical, my second career has been spent pushing iron for the local Caterpillar dealer. On my desk at the house is a quote by Pat Conroy from Beach Music that sums up my work hard, play hard outlook on life:
Throughout his life, [his] greatest fear was that he would be buried alive in that American topsoil of despair and senselessness where one felt nothing, where being alive was simply a provable fact instead of a ticket to a magic show.
Skills I've managed to pick up over the years: woodworker, boat builder, mechanic, sailor, pilot, photographer, fly fishing, outdoorsman, and writer but we'll let you be the final judge of that one!
One of the features you'll find in the header is a page titled "On the Line." From time to time I'll be posting material and/or testing ideas for the book and rather than making you hunt through all the other material, I've created a separate page to keep it convenient for you. I encourage you to comment as this project moves along. It's rather intimidating putting unpolished work out there for critical evaluation but your feedback both motivates me and helps me produce a better product.
Enjoy!
Steve Ambrose